Repairs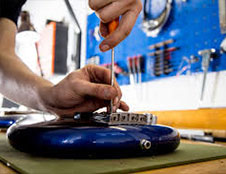 Musical instruments require regular maintenance to play their best. With your instrument in top condition, you'll play better with less effort. Every day, we see players who are fighting their instruments without even knowing it! Come see us for a free checkup and estimate.
We repair fretted and non fretted string instruments.  Our repair department will gladly evaluate your instrument at no charge. From string changes, neck adjustment to full set ups, new or vintage, our crew will treat you and your instrument with respect. Fast turn around and all instrument repairs done in house.
Our repair shop is known in the area for its professional Woodwind and Brass repair. From key adjustments, complete repads, dent removal, valve and slide maintenance and professional cleaning our shop prides itself on its professional work with fast turn around.
Our drum repair inventory is the largest in North Florida/South Georgia. There are more than 15000 individual parts for many models and ages of drums. We are known for having or being able to find that 'rare, hard to find piece'.  The drum department offers repairs, tuning, and drum detailing.